2021 Administrative Professionals Conference at UWG Newnan
Dates: May 13, 2021
Meets: Th from 8:30 AM to 4:00 PM
Registration Fee: $39.00 (valid through May 11)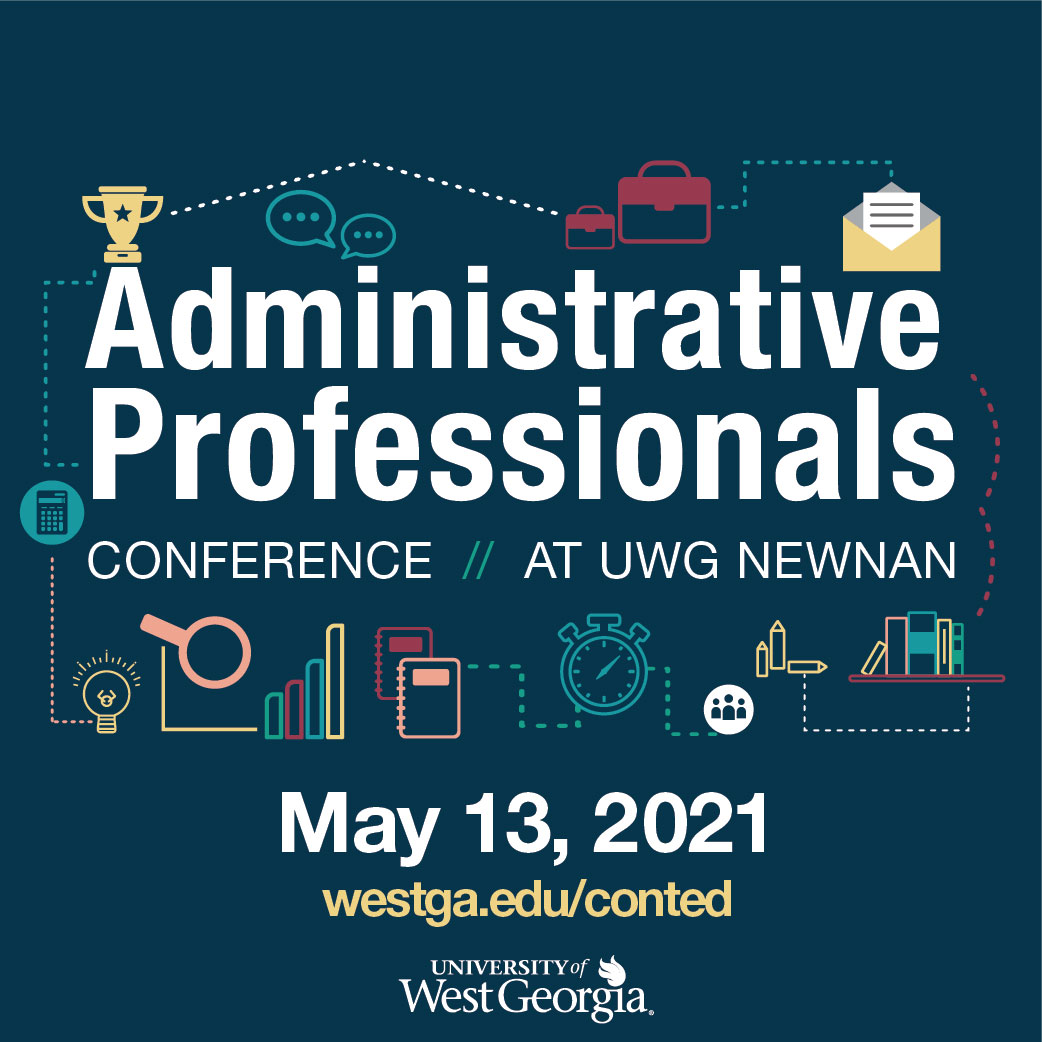 Calling all Administrative Professionals! In a constant cycle of change and advancement in the business world, knowledgeable and dependable administrative professionals are more valuable than ever before. Oftentimes, administrative professionals are overlooked in the workplace, while in reality, they are the glue that holds things together. At our Third Annual Administrative Professionals Conference at UWG Newnan, participants will learn valuable skills to enhance their job responsibilities all while receiving the recognition they deserve!
Top 3 Reasons to Attend This Conference:
1. Renew your perspective about your current work
2. Network with colleagues and new contacts
3. Learn strategies, skills, and solutions to use each day
Schedule of Events*:
8:30 am - 9:00 am: Check-in/Registration
9:00 am - 9:30 am: Welcome/Introductions
9:30 am - 10:30 am: Kickoff Keynote
15-minute break
10:45 am - 11:45 am: Breakout Sessions
11:45 am - 1:00 pm: Lunch/Networking
1:00 pm - 2:00 pm: Breakout Sessions
15-minute break
2:15 pm - 3:15 pm: Breakout Sessions
3:15 pm - 4:00 pm: Door prizes/Conference Wrap-Up
Our keynote speaker will be Dr. Tyra Wingo and breakout session topics are listed below.
When In Doubt, Delete It! - Chellie Phillips, author and Vice President of Communications and Public Relations at Coweta Fayette EMC, will discuss life edits you can incorporate to have more joy, success and clarity in life, both personally and professionally.
Delivering Outstanding Executive Level Support - Tamara Grooms, Executive Assistant to VP of Administration and VP of Finance, Kennesaw State University, discusses the practical tools, tips and tricks of the trade that may be used to organize your day so you can work more efficiently and effectively to deliver outstanding executive level support.
Essentials of Business Writing - Duane Theobold, Coordinator of the University Writing Center at the University of West Georgia, presents on how having effective communication skills in the workplace is essential, especially with your written correspondence. Participants in this session will learn about writing concepts that can be utilized in the workplace to give you that extra edge!
Lunch is included in the registration fee. If you have special dietary needs, please make a note in the "Special Needs" section of the registration form. For assistance with registration or for questions, please contact Brooklyn Layton at 678-839-6615 or blayton@westga.edu.
*subject to change
Notes:
If your company is going to pay the registration fee, please contact UWG CE at 678-839-6615, and we will assist you with the billing process. UWG employees, please call for assistance with an internal transfer, if applicable.
An administrative fee of $9 will be deducted from all refunded registrations. The refund deadline for this event is Friday, May 7, 2021 at 4PM.
In order to maintain social distancing due to the COVID-19 pandemic, we are limiting registrations for this course. If the course is full, please add your name to the waiting list.
Effective July 15, 2020, USG institutions, including UWG, will require all faculty, staff, students, and visitors to wear an appropriate face covering while inside campus facilities/buildings where six feet of social distancing may not always be possible. Face covering use will be in addition to, and is not a substitute for, social distancing. Anyone not using a face covering when required will be asked to wear one or must leave the area. Repeated refusal to comply with the requirement may result in discipline through the applicable conduct code for faculty, staff, or students. Reasonable accommodations may be made for those who are unable to wear a face covering for documented health reasons. Our goal with all guidelines and practices is to build a culture of mutual respect among members of the UWG community.
| | |
| --- | --- |
| Fee: | $39.00 |
| Hours: | 7.00 |
| CEUs: | 0.70 |