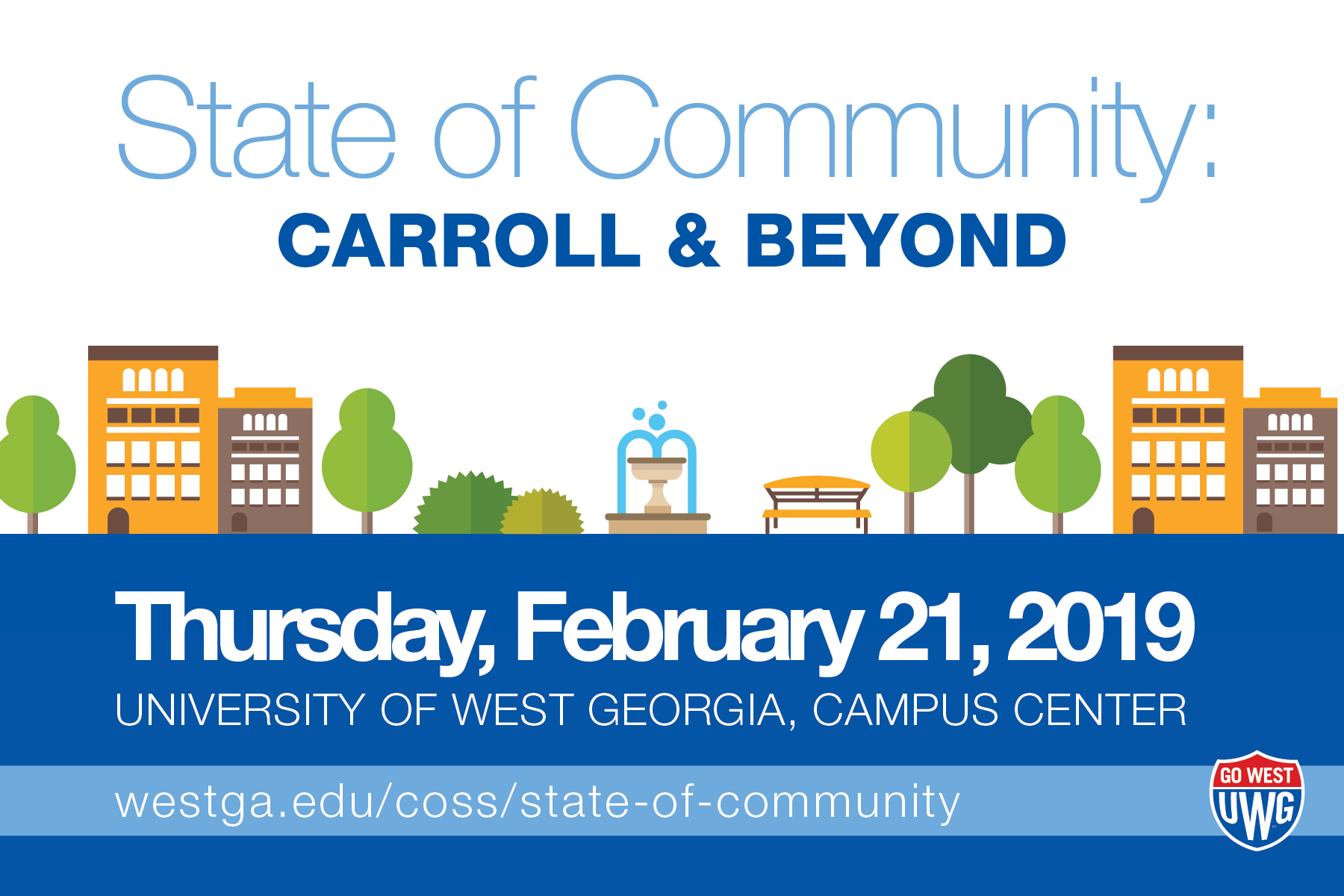 State of Community: Carroll & Beyond
Thursday, February 21, 2019
7:30 a.m. - 12:00 noon
University of West Georgia in the Campus Center
The University of West Georgia's College of Social Sciences
presents its annual
State of Community 2019
breakfast highlighting current findings and trends affecting the state of community in Carroll County and beyond.
State of Community 2019
examines the basic human needs of food, shelter and clothing for the West Georgia area, including Carroll, Coweta, Haralson, Heard, and Troup Counties. Members of our communities need secure access to all three. Resources exist to help provide access to these, yet many in in the West Georgia community still have unmet food, shelter and clothing needs. Individuals, agencies, businesses and nonprofits across the region are invited to engage in conversations and working groups to discuss barriers and opportunities to securing access to these basic human needs at the morning event on Thursday, February 21, 2019.

State of Community 2019 Schedule

7:30 a.m. - 8:30 a.m.
Registration, Breakfast, and Information Tables

8:30 a.m. - 8:50 a.m.
Presentation of Findings for Carroll and Beyond

9:00 a.m. - 9:50 a.m.
Panel Discussion: Food, Shelter, and Clothing

9:50 a.m. - 10:00 a.m.
Public Announcements

10:00 a.m. - 10:15 a.m.
Break

10:15 a.m. - 10:45 p.m.
Roundtable Discussions: Coming Together and Breaking Down the Silos

10:45 a.m. - 11:30 a.m.
Reporting Out - Ways We Can Come Together

11:30 a.m.
Closing Remarks
For specific event information, please visit the
State of Community 2019 website
or contact Dr. Amber Smallwood at
amksmall@westga.edu
.
If you require additional registration or billing information or clarification, please contact Erika McClain at emcclain@westga.edu or 678.839.6611.