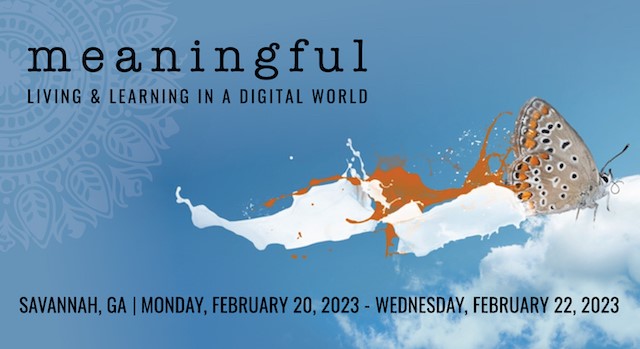 Meaningful Living and Learning in a Digital World 2023 Conference
February 20-22, 2023
Savannah, Georgia
You are invited to engage in our seventh-annual meeting which explores one of the most important issues of our era - how to live and learn with technology in ways that add authentic value to our lives and to the world. As we embrace the conveniences of emerging technologies in the classroom and beyond, we will explore ways to employ them with a people-centered approach that includes balance, compassion, healthy living, mindfulness and relationships.

The conference is sponsored by The Online Journal of Distance Learning Administration
and the University of West Georgia.

Intended Audience
• Online teachers and leaders
• Instructional designers
• Librarians and media specialists
• Psychologists and social scientists
• Education administrators
• Nurses, speech language pathologists and wellness providers
• Adult learning leaders
• Distance Learning administrators

For conference information, please visit the website at meaningful.mozello.com/

The Registration Fee includes two luncheons, two afternoon teas, four breaks and late afternoon reception.

For lodging, please call The Kimpton Brice Hotel at 1-877-482-7423 or visit their website at ihg.com and reference "Meaningful Living and Learning in a Digital World Conference 2023" or group code "WGA."


If you require additional information or clarification, please contact Marty Davis at gdavis@westga.edu or 678.839.6614.