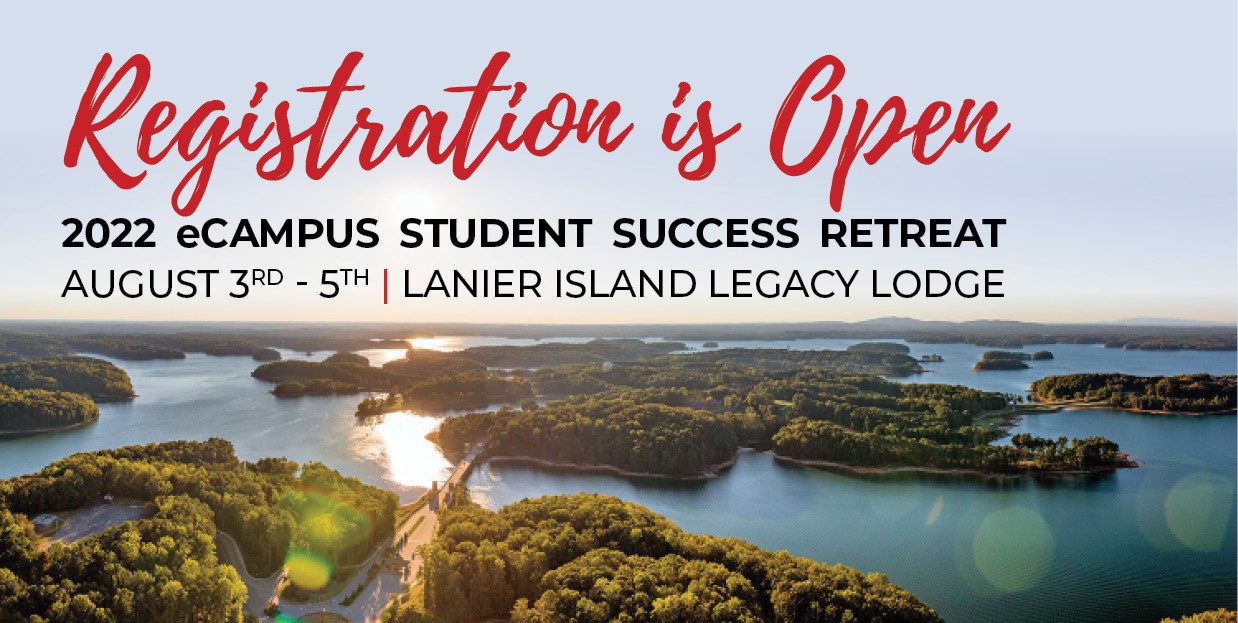 eCampus Student Success Retreat
August 3-5, 2022
Lanier Islands Legacy Lodge
The eCampus Student Success Retreat will be held on August 3-5, 2022, at the Legacy Lodge at Lake Lanier Islands. The retreat will start at 6:00 PM on Wednesday, August 3, and conclude at 11:00 AM on Friday, August 5. The retreat registration is invite-only at no cost to the participant and includes all sessions. Each institution is encouraged to send one representative per program. Travel expenses will be initially reimbursed by the individual's institution, then reimbursed by eCampus. Attendees may elect to stay for one or two nights, either of which will be reimbursed by eCampus.
A special room rate of $189.00 per night, plus a reduced resort fee of $12.50 per day is available. This includes entrance gate fee, valet or daily parking, in-room wireless internet, and in-room coffee and turndown service (upon request).
If you require additional information or clarification regarding the eCampus Student Success retreat, please contact Ashley Reece at
areece@ecampus.usg.edu
or phone 678-839-0696.

Retreat Schedule

Day 1 - Wednesday, August 3
6:00 PM: Meet & Greet by the Pool @ Bullfrogs (Optional - On Your Own)

Day 2 - Thursday, August 4
9:00 AM - 9:30 AM: Welcome and Introductions
9:30 AM - 10:00 AM: Dr. Melanie Clay, Dean of USG eCampus
10:00 AM - 12:00 PM: Morning Sessions
12:00 PM - 2:00 PM: Lunch (On Your Own)
2:00 PM - 4:00 PM: Afternoon Sessions
6:00 PM - 8:00 PM: *Optional Dinner with Group (On Your Own)

Day 3 - Friday, August 5
9:00 AM - 11:00 AM: Group Breakfast (Optional - On Your Own)

OPTIONS for Room Reservations:
All reservations booked will require a credit card to guarantee each guest room at the contracted group rate. Daily resort charge is 12.50+ tax.
Contact the Lanier Islands Reservations Department, Call 770-945-8787 / 678-318-2018 or toll free 1-800-840-5253.

A. Reference USG eCampus Student Success Retreat room block.

B. If you plan to stay outside of the scheduled retreat dates, you will need to use the call in option.

Email reservations request to reservations@lanierislands.com
Reserve your room online: https://reservations.travelclick.com/106641?groupID=3464818