UWG Summer Camp Gift Certificates
Dates: July 1, 2022 - June 30, 2023
Meets: Gift Certificate
Location: Gift Certificate
UWG Summer Camp Gift Certificate Value: $280.00
There are still openings remaining at this time.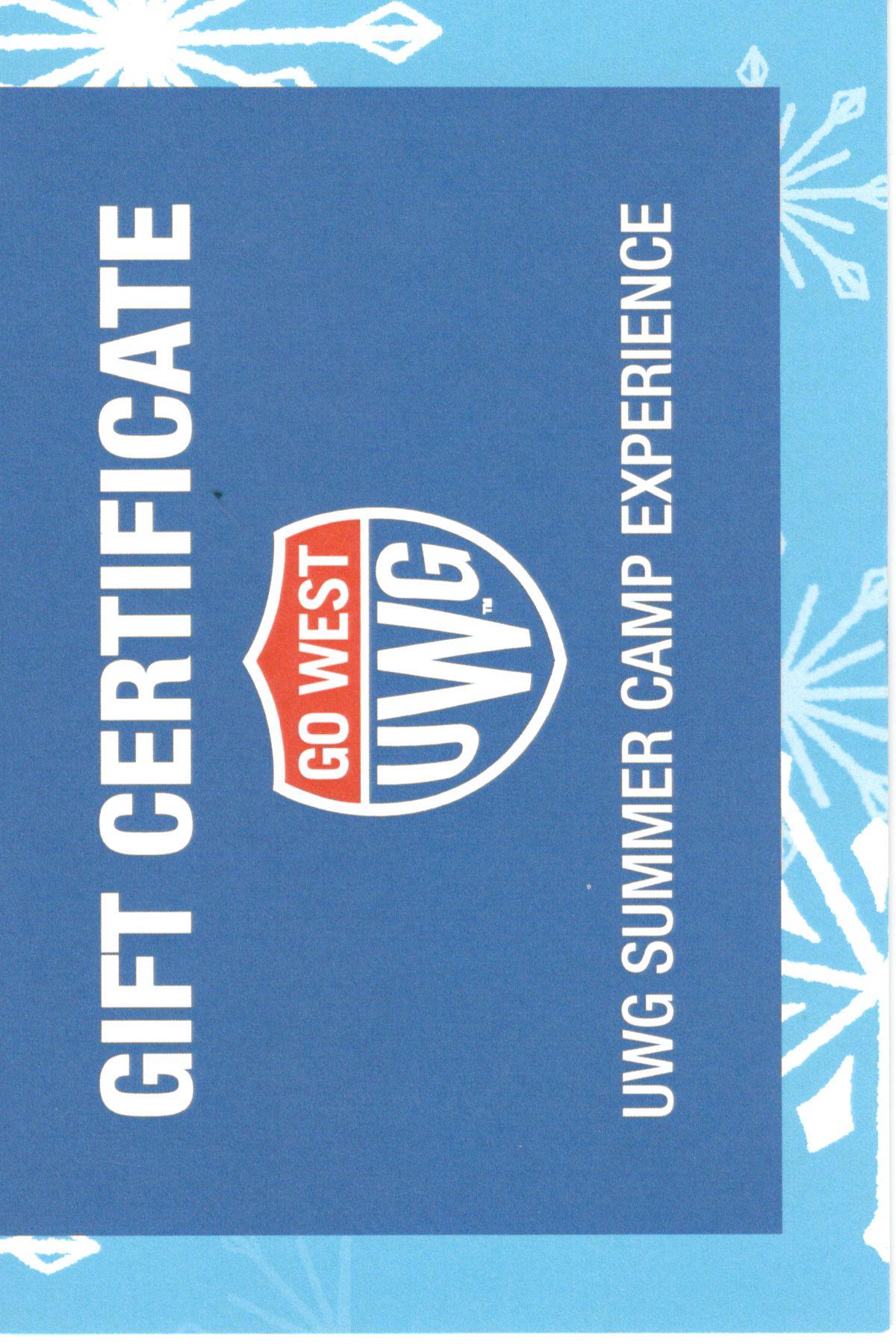 Give the GIFT of a UWG Summer Camp Experience
The University of West Georgia Summer Camps offer a unique experience for
kindergartners
through
twelfth graders
looking to
explore their interests
, make
new friends
, and learn a lot along the way. And just in time for the holidays -
UWG Summer Camp Gift Certificates!
Our
academic
and
sports camps
will provide a summer experience surrounded by learning, friendships, and making memories. Camps will be held on-campus in Carrollton and Newnan. Gift certificates are redeemable for
UWG Academic Summer Camps, All-Sports Camps, and Wolves Exploration Camps.
Camp topics and session dates will be announced in Early Spring 2023.
Gift Certificates can be purchased in increments of $50, $100, $150, $200 or purchase a complete UWG Academic Summer Camp session (6th-12th graders) for the Early Bird rate of $280. Click on Fees Tab above for options.
Gift certificates can be personalized
, please provide the recipient's name, gifter's name and list any special message upon purchase to
Continuing Education
at
conted@westga.edu
. An e-certificate will be emailed to the purchaser within 5 business days.
Gift Certificate Policy-Gift Certificate must be presented at the time of course registration, has no cash value and can not be used toward the purchase of another gift certificate. Gift certificate is not replaceable if lost or stolen and should be treated as cash. The certificates are valid during the fiscal year purchased and 25% of the dollar amount will be deducted each subsequent fiscal year.
If you require additional information or clarification, please contact Erika McClain at
emcclain@westga.edu
or 678.839.6611.
Fee Breakdown
| Category | Description | Amount |
| --- | --- | --- |
| Course Fee (Basic) | UWG Summer Camp Gift Certificate Value | $ 280.00 |
| Course Fee (Alternate) | UWG Summer Camp Gift Certificate Value | $ 195.00 |
| Course Fee (Alternate) | UWG Summer Camp Gift Certificate Value | $ 175.00 |
| Course Fee (Alternate) | UWG Summer Camp Gift Certificate Value | $ 150.00 |
| Course Fee (Alternate) | UWG Summer Camp Gift Certificate Value | $ 125.00 |
| Course Fee (Alternate) | UWG Summer Camp Gift Certificate Value | $ 100.00 |
| Course Fee (Alternate) | UWG Summer Camp Gift Certificate Value | $ 75.00 |
| Course Fee (Alternate) | UWG Summer Camp Gift Certificate Value | $ 50.00 |
| Course Fee (Alternate) | UWG Summer Camp Gift Certificate Value | $ 25.00 |
| Course Fee (Alternate) | UWG Summer Camp Gift Certificate Value | $ 20.00 |
Gift Certificate
Gift Certificate for UWG Continuing Education